Are you finding the best Ruskin Bond Best Books? Then awesome you are at the correct place.
We are sure, You will love the famous stories of the Ruskin bond best books.
He was an Indian author born on 19th May 1934. Ruskin bond was awarded the Padma Shri Award in 1999 and the Padma Bhushan Award in 2014, He was also awarded the Sahitya Academy Award in 1992.
He was written over 500 short stories, essays, novellas, and more than 40 books for children. The Ruskin bond best books several stories have also been adapted into tv-series and films like- The Rusty stories into Ek Tha Rusty this show telecast on Doordarshan.
In 2005, the Bollywood director Vishal Bhardwaj made a film based on his popular novel for children, The Blue Umbrella. The movie also won the Best Children's Film National Award. Several stories have been incorporated into the school curriculum in India, like Time Stops at Shamli, The Night Train at Deoli, and Our Trees Still Grow in Dehra.
List of Ruskin Bond Best Books
So this is the list of the 15 best of Ruskin Bond for you
1.

The Room on the Roof
The Room on the Roof This is the 1st book of Ruskin Bond Stories, the first novel of Ruskin bond at the age of 17 and he features his most popular character, Rusty in this book.
Rusty is a Sixteen-year-old Anglo Indian boy, living with her English guardian and he doesn't like him because they are too strict, so he runs away to live freely with her Indian friends.
The moving story of the love and friendship of Rusty, with a new introduction and illustration, will be enjoyed by a new generation of readers.
At the age of 17, Ruskin Bond wrote this book so stop being judgemental on him and enjoy the book at the beginning of your journey into the Ruskin Bond world.
Amazon link for book – Check Offers Here
2. A Book of Simple Living
A book of Simple Living once you read the book, your views towards life will absolutely change for sure.
Through this book Bond taught us to give importance to small things in life, those things will bring a smile to your face and happiness too.
It is a collection of beautiful thoughts read this book to spend an awesome time with your imagination, His words bring colours to our imagination.
Amazon Link For the book – Check Offers Here
3.

The Blue Umbrella
The Blue Umbrella is a story that mainly revolves around a little girl named Biniya and a shopkeeper named Ram Bharosa.
Biniya has a beautiful umbrella that was gifted to her by some foreigners and now Ram Bharosa is jealous of him because Biniya was getting popularity by the blue umbrella.
So Ram Bharosa has a plan to acquire that umbrella from him.
This is a beautiful children's story, Ruskin bond is always talked by the people when they are talking about children's literature in India.
This book of Bonds is also adopted into a movie in 2005, the whole film was based on the novel The Blue Umbrella.
Amazon link for book – Check Offers Here
4. A flight of Pigeons
A Flight of Pigeons Book story was a set of Shahjahanpur during the revolt of 1857. The story starts with little girl Ruth Labadoor whose father is killed in front of her eyes in a church.
This murder is committed by the Indian rebels in 1857, they decided to kill all the Britishers of the small town in Shahjahanpur.
So the family of Ruther goes to their trusted friend Lala Ramjimal who keeps them at his home and gives them maximum security and shelter to live.
At last, With lots of help, struggle, and support, the whole Labadoor family finally reaches their relatives.
This book is based on true events, This is one of the best Ruskin bond stories.
A Flight of Pigeons is a story of a haunting, rich in drama and details told with simplicity and deep humanity.
This Book is also converted into a movie called Junoon.
Amazon link for the book – Check Offers Here
5. The Night Train at Deoli and Other Stories
This book of Ruskin Bond is a collection of 30 short stories, All the stories are totally different from each other, not any of the stories are interconnected.
Especially I like the title story The Night Train at Deoli this is beautifully written and also a very famous story by Ruskin bond.
The Ruskin bond stories take you to the beauty of the hills, village, small-town, and to the gentle people who live in them.
All the stories are filled with love, loss, accomplishment, pain, and struggles. Through their amazing short stories, this book also takes place in the Ruskin bond best books. You can get this book for their 30 stories.
Amazon link – Check Offers Here
6.

Delhi Is Not Far
Delhi is not far It's the story of a struggling writer, and people around him in a small town called Pipalnagar, This book featured a bunch of characters from this Pipalnagar.
Characters like- There is Pitamber who wants to pull cycle rickshaw in Delhi, there is Aziz who feels he will be happy working in a jug shop of Chandni Chowk in Delhi. These small-small characters take this story to next level.
In this story, there is a narrator named Arun who is looking for inspiration for writing a massive amazing detective fiction.
In the book "Delhi is not far" Bond captures small-town life with their dreams and aspirations.
This is really an amazing story of bond you can get into thinking after reading the whole book, how Bond had thought of this story.
Amazon link – Check Offers Here
7.

Rusty The Boy from the Hills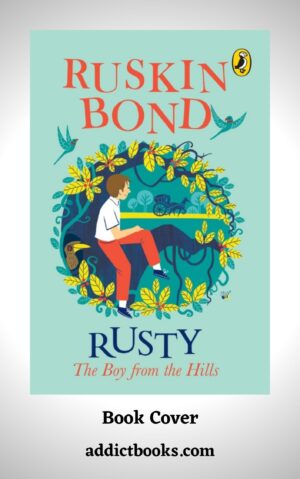 The Boy from the Hills is another novel featuring Rusty, almost 8 books featuring Rusty.
In this story, Rusty lived with her grandparents in Dehradun and he keeps running behind into quite interesting and dangerous pieces of stuff.
The books of Ruskin bond are simple written and enjoyable by the readers, This story does not have complex, dark, and mystery that many readers enjoy, but if you want to know about the true soul of rural areas then you will definitely want to pick this book.
Amazon link for the book – Check Offers Here
8.

Angry River
Angry River This is a story of a girl named Sita who lived on a small Island with her grandparents, set in the middle of the big river, yet large enough for Sita and her grandparents to live there.
The author describing everything in great detail which makes the story quite interesting.
It is basically a story about a flood on an island in which Sita was alone and scared, Sita follows her Grandfather's instructions to stay alive, But the river is angry.
Is it really the god himself who has come to save her? What happens to her family? Will she return to her island again? Will she meet the rescuer? Read this book to find out.
Amazon link – Check Offers Here
9. Our Trees Still Grow In Dehra
Our Trees Still Grow In Dehra This is in the 8th place of Ruskin bond best books, the book has 14 Ruskin bond stories(short stories), which are semi-autobiographical in nature and all are set in Dehradun.
Through these Ruskin bond stories, we meet her family, friends, and a lot of people who left her impression on him, Each story in the book traces her life from childhood to adulthood.
He also mentioned the journey from Mumbai, Delhi, and then finally back to the Himalayas.
Amazon links – Check Offers Here
10.

Tales And Legends From India
Tales and Legends from India This is also a collection of short stories divided into three sections and each section having a bunch of Ruskin Bond stories.
This book features mythical tales like tales from the Mahabharata, Panchtantra, etc which is popular in different regions of India.
The book consists of beautifully made illustrations of characters and scenes make it very interesting.
Amazon link – Check Offers Here
11. Susanna's Seven Husbands
Susanna's Seven Husband is a short story, the book has different themes like horror, crime, mystery, and romance.
The book of Ruskin Bond was also adapted into a movie called "7 Khoon Maaf ".
This is basically a story of Susanna and their seven husbands, this book will not only thrill the readers at every turn but also hold them by their dark drama page after page.
Amazon Link – Check Offers Here
12. Roads To Mussoorie
Roads To Mussoorie Ruskin bond story in this he describes his many journeys from Mussoorie to Delhi, Saharanpur, Haridwar, and many other amazing places.
In this book, he describes her day-to-day life in very interesting manners. In total 12 chapters, all dealing with different experiences of the author like his treks, traveling, party time, etc. It's a good book for relaxation and for light reading.
"He says that we don't need a big reason to be happy, we can be happy about the beautiful gift given by gods like nature and beautiful things."
Amazon Link- Check Offers Here
13. Rain in the Mountains: Notes from the Himalayas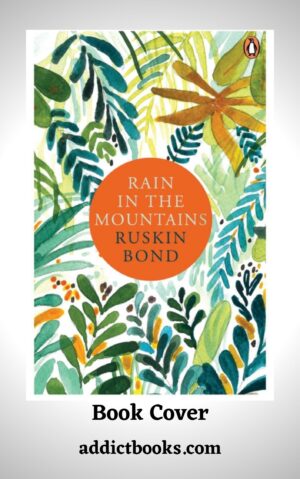 Rain in the Mountains is a wonderful read, if you are reading this book you really feel as you are a part of the mountains.
Bond's writing is so interesting, it's as though you are conversing with a friend, he describes all her most beautiful works in this book from his years spent at the foothills of the Himalayas in the town of Mussoorie.
This is a must-read Ruskin bond best book for those who have an interest or loves in nature.
Check out the Amazon link – Check Offers Here
14. The Ruskin Bond Children's Omnibus
The Ruskin Bond Children's Omnibus This book includes the ever-popular favorite of two generations of children, over twenty-five years ago written Grandfather's Private Zoo,
The Book also includes Angry River, the Blue Umbrella, Ghost Trouble, The Road to the Bazaar, Cricket for the Crocodile' and Dust on the Mountain which shows small-town life in Northern India.
When you reading this Ruskin Bond stories then you feel like as though you are taking a small trip along with the characters.
This Bond's stories are simple and sweet that brings your mind to the nostalgic days spent in villages as children, playing together, running barefoot, and stealing fruit. His stories can be enjoyed by both children as well as adults.
Amazon Link – Check Offers Here
15. A Face in the Dark and Other Hauntings: Collected Stories of the Supernatural
A Face in the Dark and Other Hauntings This collection of Ruskin Bond Best Book stories brings all of Ruskin Bond's tales of the paranormal written over five-decade.
This collection brings together all of his tales, opening with the, 'A Face in the Dark' and ending with the shockingly horrid, 'Night of the Millennium'.
The Bond supernatural tales based on the locations of the Himalayan hill station are to be a great reading and different thrilling experience.
Check out the book on Amazon – Check Offers Here
No book by Ruskin Bond can be exactly in the first and last place, all the books are quite interesting in themselves.
Recent Post: You can also read this
20 Sudha Murthy Books you will Really Love to Read
12 Swami Vivekananda Life-Changing Books
Wings of Fire PDF- Autobiography of APJ Abdul Kalam Book Review
Thank You For Visiting Our Site
We hope you like our post on Ruskin Bond Best Books, comment down below to tell us which book is your most favorite book.