In this post, we give a book review of Wings of Fire: An Autobiography By A.P.J Abdul Kalam and Arun Tiwari (Author).
Book Review of Wings of Fire: An Autobiography
Book Details
| | |
| --- | --- |
| Title | Wings of Fire: An Autobiography |
| Author | Dr. Abdul Kalam and Arun Tiwari |
| Genre | Autobiography |
| Available Languages | English / Hindi / Malayalam / Marathi / Odia / Telugu |
| Publication Date | 1 January 1999 |
| Publisher | Universities Press |
| Print Length | 180 pages |
Book Ratings
| | |
| --- | --- |
| Goodreads | 4.23 out of 5 |
| Amazon | 4.06 out of 5 |
| Flipkart | 4.06 out of 5 |
You can also read this: 
Gaur Gopal Das Life-Changing 2 Miracle Books
Book Review of Wings of Fire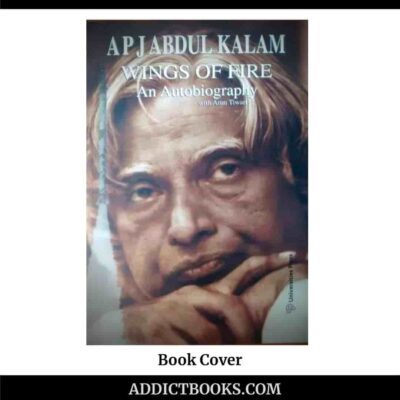 Now in the below section, we will give a brief book review of Wings of Fire.
The book review on Wings of Fire starts from the book Introduction to the section Pictures.
"Wings of Fire" is an amazing book there are a lot of good things to be learned from this book.
This is a wonderful book filled with full of inspiration and life lessons, you get to learn a lot of good things from this book. 
No wonder why Dr. Kalam is popularly remembered as the "Missile Man of India" and "People's President".
The book is narrated by Dr. Kalam, On his journey from a small village ordinary man to becoming the mission director of the missile program. Throughout the book, Kalam gives an example of great leadership.
From his childhood, he ever felt he has got a huge responsibility toward his nation. In this book, he plays a great tribute to all of those who stood by him throughout his journey- his family, teachers, colleagues, friends, his seniors, juniors, and many others.
Book Contents
The book starts with the introduction of Dr. Kalam and ends with 24 photographs associated with the life and work of Dr. Kalam.
Introduction
Dr. Kalam was born on 15 October 1931, He is the son of Jainulabdeen a little educated boat owner in Rameswaram, Tamil Nadu.
Kalam has also been awarded Bharat Ratna, India's highest civilian award,
This is the story of Kalam's effort in his career as well as the story of AGNI, TRISHUL, and NAG missiles.
Orientation
In this section, he introduces us to his family and his birthplace Rameswaram.
He was a great devotee of his father Jainulabdeen and he was also greatly influenced by his close friend Jalaluddin.
He was also interested in talking about spiritual matters with his friends and also believed in God or Khuda, he always went to Lord Shiva's temple with his friends.
Then in the next part, Dr. Kalam introduces his cousin Samsuddin and his school teachers, and all the people.
In this section, he also tells us about her educational or career background, he creates all his opportunities on his own.
Creation
This part consists of 7 chapters, from chapter 4 to chapter 10, and covers Kalam's life and work for 17 years.
This section covers the year from 1963 to 1980, This period included Kalam national recognition and a pleasant surprise came in the form of Padma Bhushan on 1981 Republic Day.
Propitiation
This Part covers the years 1981 to 1991, This part includes the scientist's journey towards becoming the "Missile man of India".
In this time of life, Kalam was responsible for the development of the five Missiles: Prithvi, Trishul, Akash, Nag, and Agni.
Pictures
In the last section, the book has 24 plates with photographs connected with the life and work of Dr. Kalam.
If you like the book review of Wings of Fire you can also read the Wings of Fire summary in 250 words.
Wings of Fire Summary
Let's discuss the Wings of Fire Summary:
Wings of Fire book was written by Dr. A.P.J Abdul Kalam and Arun Tiwari.
Dr. A.P.J examines his early life, struggle, worry, courage, success, and a chance that finally lead him to Indian space research, nuclear and missile programs. 
Kalam starts his career, after finishing his graduation from Aerospace engineering at Madras Institute of Technology (MIT) Chennai, at Hindustan Aeronautics Limited, and then he was assigned to build a hovercraft model.
Then DR. Kalam moved to ISRO and helped in establishing the Vikram Sarabhai Space Centre and guide the first space launch vehicle program.
In the 1990s and early 2000, Kalam moved to the DRDO to lead the Indian nuclear weapons program, with remarkable achievements in thermonuclear weapons development culminating in the operation Smiling Buddha and an Agni (Missile).
Kalam's last day is 27 July 2015, he died during a speech at the Indian Institute of Management in Shillong, Meghalaya.
Wings of Fire Books Different Editions
This book of Dr. Kalam is available in different editions all the edition links are given below:-
English Edition
Amazon link for English Edition-  Check Offers Here
Hindi Edition
Amazon link for Hindi Edition- Check Offers Here
Malayalam Edition
Amazon link for Malayalam Edition- Check Offers Here
Marathi Edition
Amazon link for Marathi Edition- Check Offers Here
Telugu Edition
Amazon link for Telugu Edition- Check Offers Here
Odia Edition
Amazon link for Odia Edition- Check Offers Here